Thresholdless Oscillation in High-β Buried Multiple-quantum-wellPhotonic Crystal Lasers
 A photonic crystal (PhC) cavity is promising for photonic network-on-chip architecture because its ultra-small mode volume and high quality factor will enable efficient and high-speed lasers and LEDs. To realize them, we study nano-emitters using buried multiple quantum wells (MQW) PhC cavities [Fig.1(a)]. Conventional QW-PhC have been extensively investigated, however they suffer from poor carrier confinement and surface non-radiative recombination. On the other hands, our buried MQW PhC cavities can exhibit distinctive spontaneous emission control [1] because of strong carrier confinement and low surface non-radiative recombination. Therefore spontaneous coupling factor (β) of our devices can be unity and theoretically-predicted thresholdless laser can be realised.
 In this study, we have investigated the characteristics of high-β buried MQW PhC lasers to clarify the thresholdless operation. To compare the nature of lasing operation for high and low β values, we performed systematic measurements, such as L-L measurement and time resolved measurement, under a large and small detuning condition (2 nm and 15 nm detuning) as shown Fig. 1(b). From these results, we have unambiguously demonstrated high-β lasing with a smoothed transition. In addition, we systematically investigated the dependence of β on the detuning frequency, which was in good agreement with a numerical simulation based on the finite-difference time-domain method [Fig. 1(c)].
[1] M. Takiguchi et al., Appl. Phys. Lett. 103, 091113 (2013).
[2] M. Takiguchi et al., Opt. Express 24, 3441 (2016).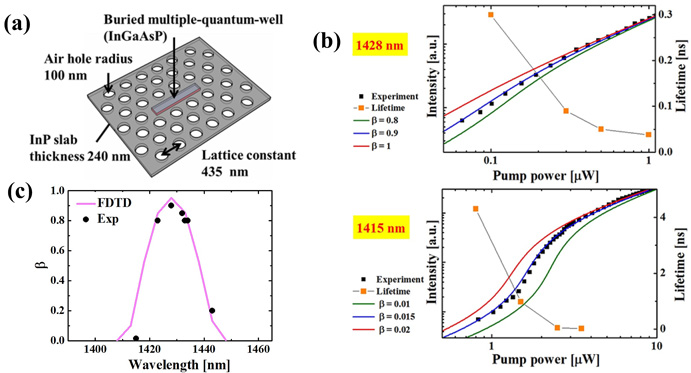 Fig. 1. (a) Schematic of L3 PhC cavity. (b) L-L curve. (c) Experimental and simulated β.
---