Presentations at International Conferences (Fiscal 1999)

The number of the presentations at the international conferences in fiscal 1999 amounted to 190 in Basic Research Laboratories as a whole. The number of presentations according to their research areas is as follows.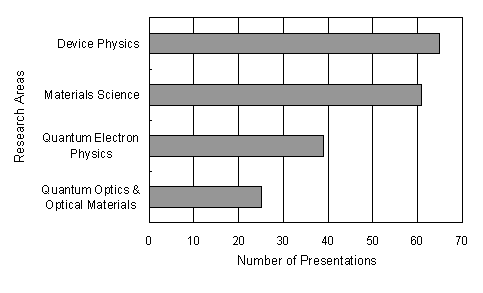 The major international conferences and the number of presentations are shown below.
| | |
| --- | --- |
| Name | Number |
| 1999 Fall Meeting of Material Research Society | 10 |
| Pacific Rim Conference on Lasers and Electro-Optics 1999 | 8 |
| 1999 International Conference on Solid State Devices and Materials | 8 |
| 13th International Conference on the Electronic Properties of Two-dimensional Systems | 7 |
| International Symposium on Surface Science | 7 |
| International Joint Conference on Silicon Epitaxy and Heterostructures | 6 |
| International Workshop on Photonic and Electromagnetic Crystal Structures | 5 |
| 22nd International Conference on Low Temperature Physics | 5 |
| 5th International Conference on Atomically Controlled Surfaces, Interfaces and Nanostructures | 5 |
| Modulated Semiconductor Structures | 5 |
| The fourth Symposium on Atomic-Scale Surface and Interface Dynamics | 4 |
| 26th International Symposium on Compound Semiconductors | 4 |
| Microprocesses and Nanotechnology 1999 | 4 |
| Third International Symposium on Control of Semiconductor Interfaces | 4 |