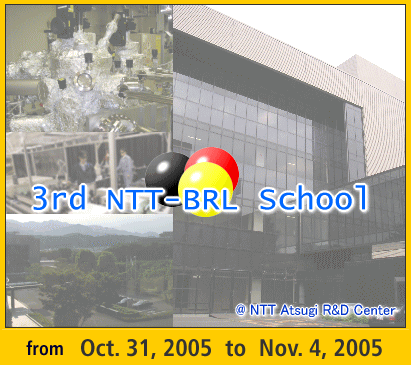 Check "Schedule" and "Access" information

. (2005.09.15)

The deadline for the application has been extended to July 11.

(2005.06.29)

Lectures on
Introduction to Mesoscopic Physics

by Prof. Boris Altshuler , Princeton University, USA (lecturer, coordinator)
Decoherence and Energy Relaxation in Disordered Metals

by Prof. Norman Birge1, 2, Michigan State University, USA (lecturer)
Decoherence in Disordered Metals and Quantum Mesoscopic Device: Theory

by Prof. Yuri Galperin , University of Oslo, Norway (lecturer)
Quantum Scattering and Shot Noise (Tentative)

by Prof. Christian Glattli

, CEA Saclay, France (lecturer)
Mesoscopic Effects and Decoherence in Quantum Dots
Spin Effects in Double Quantum Dots

by Prof. Charles Marcus , Harvard University, USA (lecturer)
-

with Special Talks -
Transport properties of granular metals and arrays of quantum dots

Prof. Valerii Vinokur , Argonne National Laboratory, USA
Decoherence in Josephson Charge Qubits

Dr. Oleg Astafiev , NEC, Japan


Deadline for Application
--- July 11, 2005 ---
---
Acceptance Notice


--- July 29, 2005 ---



Ph.D students or master's course students who have studied fundamental principles of quantum physics can apply for this school. (Japanese students are acceptable as well, but all seminars are given in English.)
The number of participants is limited to approx.30. Applicants are required to register online by filling out the application form on the web site. The deadline for application is July 4, 2005




Atsugi city
Seminar Room
Passport and Visa
All the persons entering Japan must have valid passports. In addition, persons coming from certain countries must have visas issued by Japanese consul in their countries. Please check with your travel agent. Participants who require visas should allow plenty of time for their application to be processed. For details, please contact your nearest Japanese Embassy or Consulate. If required, NTT's staff will help in procuring visas.

The website for the Ministry of Foreign Affairs of Japan is
http://www.mofa.go.jp/j_info/visit/visa/index.html


Traveler's insurance
Participants need to prepare traveler's insurance in your country and send a copy of your insurance documents to NTT by facsimile before your departure.


Poster Session
Poster sessions by all participants have been tentatively scheduled on November 1, Tuesday and 2 Wednesday evening.

Poster panels will be 1.75 m high and 0.85 m wide which means your poster can occupy a full space of 1.75m high by 0.85m wide. Pins will be provided for fixing posters on the panels.

Each poster should begin with an introductory part, accessible and able to motivate everybody.

Please use the catchwords instead of long sentences. Each poster should end with a conclusion or a summary of the results.
Please prepare your poster in your university or laboratory before joining the school.

By the end of September, let us know the title and the abstract (approx. 200 words) of your poster presentation by e-mail.


Financial Support of Travel Expenses
NTT will cover the following expenses:
* Round trip airfare between your airport and Narita Airport.
* Cost for accommodation for 6 nights from Oct. 30 to Nov.4. (including Breakfast)
* Lunch during the school

Please note that NTT will NOT cover the following expenses:
* All domestic transportation expenses such as the fare between Narita and Hon-Atsugi Sta. should be covered at your personal expenses.

* Most of the dinners during the school will be provided. However please note that some should be covered at your personal expenses.

* Traveler's insurance should be covered at your personal expenses.

The remittance of your airfare will be made to your bank account after a month of the school. Participants who use the airline must purchase discounted tickets and get NTT's authorization as to the price before purchasing, also should submit the receipt.


Access
How to get to Atsugi city from Narita Airport
Please arrange your way to "Atsugi Urban Hotel" on Oct. 30th, on your own.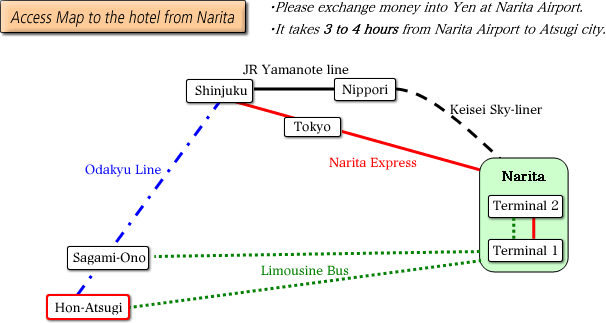 The nearest train station to the hotel is called "Hon-Atsugi". There are several ways (by limousine bus or train) to reach Hon-Atsugi station from NaritaAirport. Please refer below for further information.


1, From Narita Airport to Hon-Atsugi station

1) By Limousine Bus
Limousine bus is the easiest way to reach Hon-Atsugi station. Please refer to a bus timetable below(*1). Bus ticket counter is located right outside of the immigration exit on the arrival lobby. Either Terminal 1 or 2, you will find it easily after you pass the custom. There are several bus companies running to various directions. Please be sure to choose the bus bound for Hon-Atsugi

or Sagami-Ono

. Bus terminal is located just outside the arrival lobby. Both limousine bus tickets for Hon-Atsugi and Sagami-Ono cost 3,500yen.If you take a bus bound for Sagami-Ono, please make sure to take a train name "Odakyu-line" bound for Odawara

or Hakone-Yumoto

after getting off the bus at Sagami-Ono station. It is just two stops away by express train from Sagami-Ono to Hon-Atsugi, and costs 240yen.
It usually takes about 2 to 3 hours from NaritaAirport to Hon-Atsugi station. Keep in mind that there could be an enormous traffic jam in Tokyo during evening rush hours.
(*1)Airport Limousine Timetable (From Narita Airport as of July, 2005)
Narita
(Terminal1)

Narita
(Terminal2)

Sagami-
Ono

Hon-
Atsugi

Narita
(Terminal1)

Narita
(Terminal2)

Sagami-
Ono

Hon-
Atsugi

07:05

07:10

09:10

-

15:05

15:10

17:15

-

08:05

08:10

10:15

-

15:55

16:00

18:15

-

09:05

09:10

11:15

-

16:15

16:20

-

18:35

10:05

10:10

12:15

-

16:45

16:50

19:05

-

10:35

10:40

-

12:55

17:45

17:50

20:05

-

11:05

11:10

13:15

-

18:45

18:50

20:55

-

12:05

12:10

14:15

-

19:45

19:50

21:55

-

13:55

14:00

-

16:15

19:55

20:00

-

22:15

14:15

14:20

16:25

-

20:45

20:50

22:55

-
2) By Train
By train, you come to Hon-Atsugi station via Shinjuku

station.

a) The easiest way is to take a direct train JR Narita Express (NEX) from Narita airport, which takes 80 minutes to JR Shinjuku station and costs 3,310yen. Tickets are available at the arrival lobby. NEX station is on the underground level of the airport. Take any express trains bound for Omiya (

) , Ikebukuro (

) or Shinjuku

. Timetable for NEX is as follows(*3). After you arrive at JR Shinjuku station, transfer to another train, Odakyu line

. Please check the map of Shinjuku station(*4).



(*3) Narita Express Timetable (from Narita Airport to Shinjuku) As of July 1, 2005
No.

Narita
(Terminal1)

Narita
(Terminal2)

No.

Narita
(Terminal1)

Narita
(Terminal2)

2

7:42

7:44

9:04

9:29

26

15:13

15:16

16:16

16:37

6

8:52

8:54

9:55

10:16

30

16:13

16:16

17:20

17:42

8

9:15

9:18

10:16

10:36

32

16:43

16:46

17:47

18:07

10

9:43

9:46

10:42

11:04

34

17:13

17:17

18:20

18:42

12

10:16

10:19

11:12

11:33

38

18:13

18:17

19:19

19:41

14

11:16

11:19

12:12

12:33

40

18:46

18:49

19:51

20:16

16

12:16

12:19

13:12

13:33

42

19:13

19:16

20:17

20:41

18

13:16

13:19

14:12

14:33

44

19:43

19:46

20:53

21:16

22

14:13

14:16

15:16

15:36

46

20:43

20:45

21:47

22:11

24

14:43

14:46

15:43

16:06

48

21:43

21:45

22:38

23:02
b)You can also use Keisei line
, with which you transfer at Nippori

station onto JR Yamanote-line

to Shinjuku. Keisei line costs 2,110yen with Sky-linerExpress train.
From Shinjuku, take Odakyu line to Hon-Atsugi. Among several exits, take either West or South (not New South) exit. Shinjuku station is one of the largest transit hubs in Tokyo, serving many different train and subway lines. Each has its own separate gate so make sure you make your way toward Odakyu line. Purchase an Odakyu ticket at a vending machine, the price of which is 480 yen to Hon-Atsugi.

Odakyu Shinjuku station has two departure-floors: upper for Express train and lower for Local train. Do not take local train

, kakueki-teisha since it stops at every station and even waits for express trains passing by. You should better not take Semi Express

,jyunkyu or Section Semi Express

,kukan-jyunkyutrain since they stops at many stations. Choose Rapid Express

,kaisoku-kyuko or Express

,kyuko train bound for Odawara

or Hakone-Yumoto

among several expresses. Also, there are express trains which goes to other directions (such as

,Shonan-kyuko and

,Tama-Kyuko) .Please ask people around you to make sure it takes you to the right destination.Express

,kyuko leaves every 10 minutes from platform 4 and 5, and takes 50min. to Hon-Atsugi

. The last train to Hon-Atsugi leaves Shinjuku at 11:35pm.

If you come around evening rush hours, 5-8pm, Limited-Express

, tokkyu romance car could be an option. You pay double (1,030yen vs. 480yen) and get a reserved seat. It is only 10minutes faster, 40min. to Hon-Atsugi, however, provides more space and comfort. Not all the limited-express make a stop at Hon-Atsugi, so please check whether your train stops there. Tickets are available until a few minutes before departure as long as seats are available.


(*4)Shinjuku station map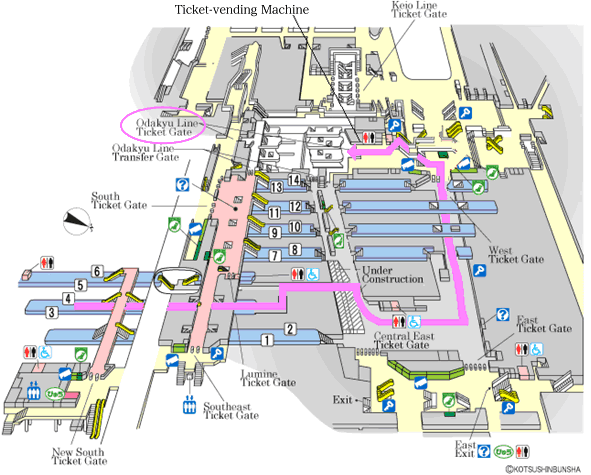 Enquiry
Dr. Akira Fujiwara

Research Planning Section
NTT Basic Research Laboratories

3-1 Morinosato Wakamiya,
Atsugi-shi, Kanagawa 243-0198, Japan

Phone: +81 46 240 3311
E-mail: afuji@aecl.ntt.co.jp


Ms. Yukiyo Mizoi

Research Planning Section
NTT Basic Research Laboratories

3-1 Morinosato Wakamiya,
Atsugi-shi, Kanagawa 243-0198, Japan

Phone: +81 46 240 3257
E-mail: yukiyo_m@will.brl.ntt.co.jp