Cover: Optomechanics Using Excitonic Transitions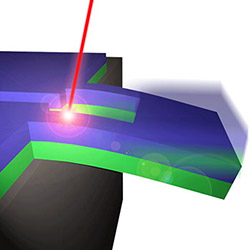 Schematic image in the middle of the cover.

Electron-hole pairs are generated by laser irradiation in the AlGaAs/GaAs cantilever. Electrons and holes are spacially separated via the built-in electric field, leading to the piezoelectric compressive stress in the GaAs (the green colored lower layer). This stress causes bending. Thus, the cantilever can be driven via this opto-piezoelectric effect. Because the driving efficiency depends on the degree of optical absorption, high-sensitivity spectroscopy is realized by monitoring the displacement of the cantilever. The optically induced stress acts on the cantilever in a time delay with respect to the optical excitation. Therefore, the continuous laser irradiation results in a feedback effect on the mechanical oscillation. This enables us to reduce the thermal noise in the cantilever as well as to amplify its vibration.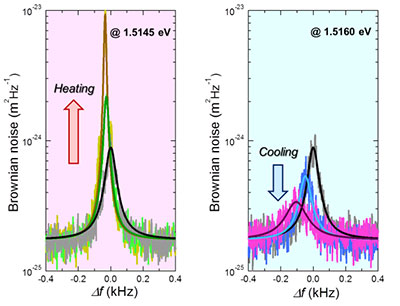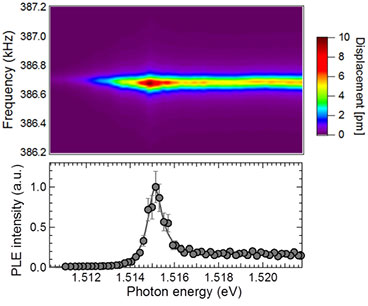 Graphs on the cover (top left graphs on the cover are shown on page 34).
Top middle graph: Amplification (left) and de-amplification (right) of the thermal vibration by continuous laser illumination. Detuning the photon energy from the exiciton resonance energy (1.5152 eV) causes a positive or negative feedback effect. Top right graph: Photon-energy dependence of the frequency response under modulated illumination (top) and the photoluminescence excitation (PLE) spectrum (bottom). The driving efficiency is maximized at the exciton resonance energy, where the PLE intensity is the maximum.
---