» Schedule
Schedule
Brief schedule of NTT-BRL School is as follows.
Nov. 14, Sat.

Arrival in Japan

Nov. 15, Sun.

Orientation / Lecture / Lab. Tour

Nov. 16, Mon.

Lecture / Excursion

Nov. 17, Tue.

Lecture / Poster Session (Joint with ISNTT2015)

Nov. 18, Wed. -

Departure from Japan or attend ISNTT2015
Please click on the thumbnail below to download detailed schedule.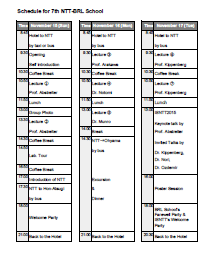 (PDF/135Kb)