Access > from Tokyo International(Haneda) Airport
How to get to Atsugi city from Tokyo International(Haneda) Airport
Two easiest way to get to the Hotel in near Hon-Atsugi station from Tokyo International(haneda) Airport.
Airport Bus 1,500(JPY) (Tokyo International(Haneda) Airport -> Hon-Atsugi station)
Train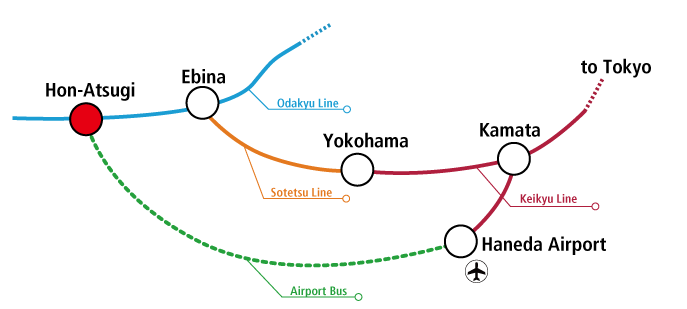 a. by Airport Bus
This is the easiest transportation to Atsugi city, although it's running about once an hour. Airport bus ticket counter is located at both Terminal 1 and 2, right outside of the arrival gate. There are several bus companies running to various directions. Make sure you choose the bus bound for Hon-Atsugi station. Fare is 1,500(JPY) and it usually takes one hour depending on traffic. Keep in mind that there could be enormous traffic jam in Tokyo during evening rush hour.
The bus to the airport needs to make reservation. Please buy the ticket in advance. The ticket counter in Hon-Atsugi station will open from 9:00 to 19:00.
Terminal 1 & Terminal 2

Access Information: Bus stop No. (Tokyo International Airport)
Buses Connecting with Haneda Airport: Time tables
b. by Train
The easiest way to come to Hon-Atsugi station by train is to take the transportation as below.

Keikyu Line


Keikyu Line to Yokohama is about 30 minutes and costs 470(JPY). There are some direct train bound for "Misaki-guchi" which stops at "Yokohama", but most of the train from Haneda airport are bound for other places, so you need to transfer at "Kamata station" onto the one which goes to "Yokohama". There is various train in Keikyu Line, such as Local, Express, Rapid Express, Limited Express, and so on, so you had better ask which is the best to take at the platform.

Sotetsu Line


From "Yokohama", you have to transfer to Sagami Tetsudo Line called Sotetsu bound for "Ebina". Not all the Sotetsu line will go to "Ebina" so you need to check your destination. It will be about 30 minutes ride and 300(JPY).

Odakyu Line


From "Ebina", you have to transfer to Odakyu Odawara Line bound for Odawara or Hakone-Yumoto. It will be about 5 minutes ride and 120(JPY).