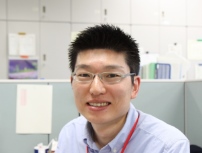 Hiroshi Irie, PhD
Staff scientist
Quantum Solid State Physics Research Group
NTT Basic Research Laboratories
Education:
PhD, Electrical Engineering, Univ. of Rochester (2010)
ME and BE in Materials Science, Univ. of Tokyo (2005, 2003)
Research interest:
Quantum phenomena in superconductor/semiconductor hybrid systems
Spintronics in InAs two-dimensional electron gas
NEWS
2014/04: Superconducting QPC paper is published in PRB.
2014/03: Matsumoto-san and Suzuki-san finished MS course. (more info).
2013/11: Poster presentation at 545. Wilhelm and Else Heraeus Seminar, Bad Honnef.
2012/05: Poster presentation at TQP 2012, Nagoya (more info).
2012/01: InGaAs-QPC paper is published in APEX.