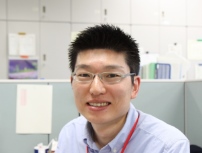 Hiroshi Irie, PhD
Staff scientist
Quantum Solid State Physics Research Group
NTT Basic Research Laboratories
Education:
PhD, Electrical Engineering, Univ. of Rochester (2010)
ME and BE in Materials Science, Univ. of Tokyo (2005, 2003)
Research interest:
Quantum transport in superconductor/semiconductor hybrid systems
Two-dimensional topological insulators in InAs/InGaSb composite quantum wells
Spintronics in InAs two-dimensional electron gas
NEWS
2022/02: Fractional quantum Hall effect in InAs is demonstrated [PRB].
2020/10: Quantum transport evidence of Weyl fermions in SrRuO3 [Nature Commn].
2020/10: New paper on topological phase transition appears in PRMater.
2020/02: New paper on epitaxial strain effects in InAs/GaSb CQWs appears in PRB.
2019/05: Capacitance determination of g-factor in InAs QW is published in APEX.
2016/12: Ruben finished his internship at NTT.
2016/11: Strained InAs/InGaSb 2DTI paper is published in APL.