February 5, 2017
Wearable Monitoring System: first demonstration of wearable biosensor "hitoe" in medical rehab facility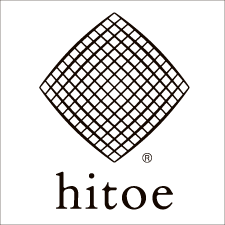 On February 7, 2017, four companies—Fujita Health University, Toray Industries, Ltd. (Toray), NTT, and NTT DOCOMO—launched a collaborative trial to assess the effectiveness of a monitoring system for rehabilitation patients based on "hitoe", a wearable biosensor that records heart beat, and other biomedical data.
=> Molecular and Bio Science Research Group
The trial is being conducted at Fujita Health University Hospital, which boasts largest number of beds and rehabilitation specialists in Japan. Specialists and staff in the rehabilitation wing of the hospital will monitor patients' heartbeats and status (activity level and location data) 24 hours a day and assess the effectiveness and potential of "hitoe" for gathering the type of quantitative medical data needed in the rehabilitation field.
After confirming the effectiveness of the "hitoe" sensor technology, Toray, NTT, and NTT DOCOMO will consider how best to exploit the technology for implementing rehabilitation services.
Meanwhile, "hitoe" will also be tested as part of the Robotic Smart Home (RSH) project slated for June 2017. The RSH project will demonstrate "smart homes for the elderly" featuring nursing-care robots and other advanced life-support technologies.
Collaborative trial to assess efficacy of the rehab patient monitoring system
Trial specifics
Preliminary investigation of healthy subjects
Wearable "hitoe" vest-like garments for rehab patients were first tested on healthy subjects by putting them through an exercise routine while wearing the vests, then analyzing their exhaled gas and measuring SpO2* while collecting heart rate data. Subjects were also asked to walk a course, and the pace and distance covered were measured. Based on the findings, we then checked to make sure the data obtained from "hitoe" accurately reflected the amount of exercise undertaken by the subjects.
Investigation of rehab improvement effects at the center
Next, we tested rehab outpatients and patients admitted for rehab at Fujita Health University Hospital Rehabilitation Center by having subjects go through their regular rehab routines wearing the "hitoe" vest, while gathering heart rate data and activity data (data collected while subjects were exercising, at rest, standing, lying down, and so on). The data is displayed in real time, so is very useful for verifying that the amount of exercise stress is appropriate for individual patients. On a dedicated viewer, one can compare changes in heart rate and activity during a single rehab session with changes in heart rate and activity during rehab over an extended period, and this helps the doctor map out the most effective rehab program for his or her patients. The primary emphasis of the trials is to assess the effectiveness of "hitoe" and to determine how the material affects rehab program planning, execution, and patient recovery.

Effects of 24-hour monitoring on rehab (including patients who spend prolonged periods in the ward)
The "hitoe" vest was worn for 24 hours by patients admitted to the rehab ward on an inpatient basis who normally spend long periods in the hospital. Nurses were able to monitor changes in patient activity in real time using handheld terminals, thus giving them advance warning when a patient prone to falling was about to undertake some activity, or alerting the nursing staff to rouse a bedridden patient to get some exercise. The "hitoe" sensor thus offers an effective way to get early confirmation when a patient is engaged in risky behavior, or remind nurses when it's time to encourage patients on the ward to get some exercise.
* SpO2 provides an estimate of percentage of oxygenated hemoglobin or the amount of oxygen in the blood. If the SpO2 value falls below a certain level, it could result in respiratory failure.
Trial timeframe
The trials will run from February 7, 2017 to June 30, 2017. (Note that other "hitoe"-related trials may continue for up to three years.)
Trial environment
Setting
Fujita Health University Hospital Rehabilitation Center in Building A (1,900 m2). The trial may move to the Convalescence Rehab Ward in Building B (4,000 m2) in 2018.
Subjects
Ninety subjects are involved in the trials including 30 healthy subjects, 30 outpatient subjects, and 30 inpatient subjects (planned).
Future plans
We plan to roll out hitoe-based products on the market within three years.
Companies participating in the trial and their respective roles
Participant
Involvement
Fujita Health University Hospital
- hitoe" trial at medical rehab site
- Clinical study, assessment of "hitoe" garments for rehab
- "hitoe" trial with RSH (Robotic Smart Home) project
Toray Industries
- Assessment of "hitoe" garments for rehab
NTT
- Derive stable heart rate from rehab "hitoe" garments
- Develop behavior estimating system for collecting/displaying data
NTT Docomo
- Explore commercialization of patient monitoring system for rehab
Sketch of the "hitoe" vest for rehabilitation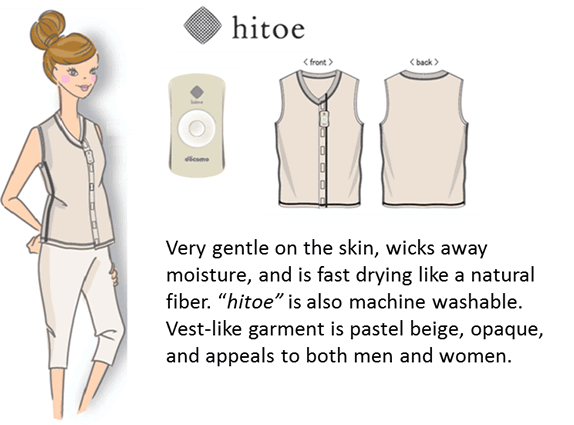 Schematic overview of the rehab patient monitoring system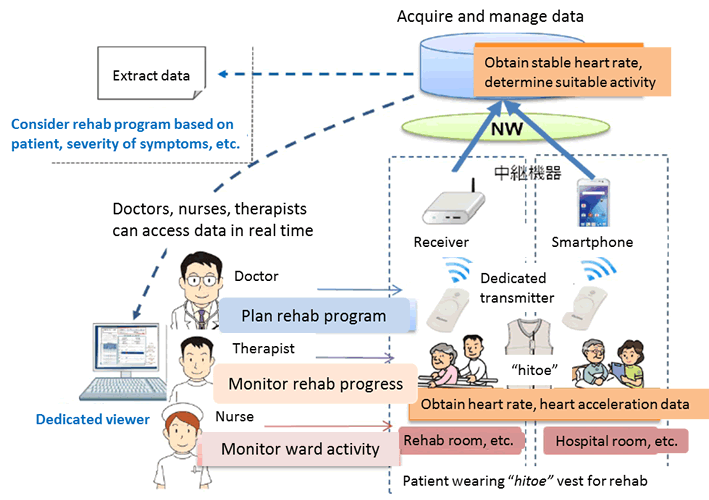 Reference
"hitoe"
"hitoe" is a durable, functional, nonmetallic material capable of detecting biosignals with excellent sensitivity. This material consists of fiber material coated with a conductive polymer developed by NTT, which is applied to a cutting-edge nanofiber material developed by Toray Industries. "hitoe" adheres well to the skin to ensure stable measurement of various biomedical signals: heart rate, electrocardiogram waveforms, R wave intervals used to estimate sleep data, and so on. The nanofiber stands up to repeated machine washing, and has been used to create a range of different garments (even hats) that ensure close contact to the body and adhesion to the skin to obtain more sensitive measurement of biomedical signals.
Fujita Health University Hospital Rehabilitation Department
Largest rehabilitation facility in Japan. The Rehabilitation Department treats an average of 700 patients per day, employs 14 full-time rehabilitation specialists, and is supported by 130 staff therapists (physical therapists, occupational therapists, speech therapists, etc.). Dr. Eiichi Saito, professor of Rehabilitation Medicine and Executive Vice President of Fujita Health University Hospital, was recognized with the Sidney Licht Lectureship Award by the International Society of Physical and Rehabilitation Medicine (ISPRM) World Congress 2015 for his major contributions to rehabilitation medicine over the past year.
Robotic Smart Home (RSH) project
Fujita Health University Hospital will also be actively involved in the upcoming Robotic Smart Home (RSH) project in the UR Toyoake Housing Development (danchi) in Aichi Prefecture near Nagoya beginning in June 2017. One housing unit in the development is being equipped with trial equipment and systems—a nursing-care robot and various other life-support technologies—to assess the utility of the equipment and the viability of this kind of residential space to create a prosperous longevity society. The new "hitoe" material enables people stay comfortably in their homes while seamlessly monitoring their biomedical signals remotely 24 hours a day from a nearby hospital.
"hitoe" is registered trademark owned jointly by both Toray Industries and Nippon Telegraph and Telephone Corporation (NTT).