April 20, 2017
First in Japan Joint Demonstration of "hitoe" to Measure Racing Car Driver Biological Data at the 2017 All Japan Super Formula Championship
~ Realizing higher performance using driver biological data and vehicle data ~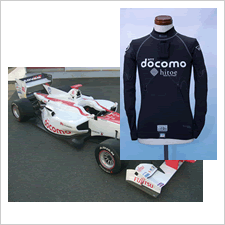 In cooperation with Dandelion Ltd. ("Dandelion"), who operate "DANDELION RACING" car racing team, NTT DOCOMO Corp. ("NTT DOCOMO"), NTT Data Corp. ("NTT Data"), and NTT Corp. ("NTT") have begun a joint demonstration measuring driver biological data using "hitoe"*1 during the All Japan Super Formula Championship ("Super Formula") starting on Saturday, April 22, 2017.
=> Molecular and Bio Science Research Group
The demonstration was done to visualize driver bodily function and driving conditions in the Super Formula environment, on circuit layouts with repeated sudden acceleration and breaking. Bodily data was measured using a functional material "hitoe", which can measure biological data continuously. Data can be measured, including electro-cardio waveforms and heart rate, by simply having the driver wear an undershirt with "hitoe" ("hitoe wear").
By analyzing this biological data together with racing car driving data (speed, acceleration, tachometer, break pressure, etc.) and video of the driving conditions from onboard cameras, any correlations between the driver's bodily state and driving state during the high-speed race can also be studied. This holds promise for studying driver management and training.
In the past, vehicle data in the racing environment was collected with increasing accuracy as technology advanced and improved, but there was no mechanism to collect biological data from the driver during a race. hitoe wear makes it possible to collect such driver data during a race. We are working to provide this biological data in real time during races, using our LTE network, and to achieve even higher performance by providing advice based on this data to the driver during the race.
In the future, we will utilize our networks, which are stable in the demanding, real racing environment, combined with the services, analytical technologies and expertise of all four companies to create new services that will enable drivers to perform in races with more comfort and efficiency.
*1 ... hitoe
A highly advanced nano-fiber fabric with a specialized, highly-conductive coating, producing a very durable, non-metallic material that can also be used to obtain bodily signals such as heart rate and electro-cardio waveforms when attached to the skin.
* "hitoe" is a registered trademark of Toray Industries and NTT Corporation.
Joint Demonstration Overview
Test Description


Racing driver biological data and car driving data are gathered in a Super Formula environment and analyzed to study correlations between driver biological state and driving conditions during a high speed race.

All Japan Super Formula Championship Races

| | Test location | Dates |
| --- | --- | --- |
| Race 1 | Suzuka Circuit (Mie prefecture) | Apr. 22, 23, 2017 (Sat., Sun.) |
| Race 3 | Fuji Speedway (Shizuoka prefecture) | Jul. 8, 9, 2017 (Sat., Sun.) |
| Race 4 | Twin Ring Motegi (Tochigi prefecture) | Aug. 19, 20, 2017 (Sat., Sun.) |
| Race 7 | Suzuka Circuit (Mie prefecture) | Oct. 21, 22, 2017 (Sat., Sun.) |

Measured Biological Data
Driver heart rate, electro-cardio waveform, upper-arm and chest electro-myogram data.

Measured Vehicle Operation Data
Speed, acceleration, tachometer, break pressure, onboard camera video of operation state.

Company Roles


Role
NTT DOCOMO
・Gather and analyze driving data with an onboard data logging system
・Gather and analyze driving video with onboard camera(s)
・Analyze race data (race timing, weather, etc.) and gathered data for correlations
Dandelion
・Driver's hitoe clothing, installing devices in vehicle
・Functional evaluation of test devices and evaluation of analysis accuracy
・Study how to reduce race lap times using driver state.
NTT Data
・Analyze driver vital statistics and visualize muscle motion while driving
・Analyze diverse data obtained in experiments for correlations
・Analyze driver biological data during a race, inferred from correlation analysis
NTT
・Provide hitoe-wear, using hitoe technology in fire-resistant underwear
・Provide devices and technology with functionality for gathering and transmitting biological data
Reference
hitoe wear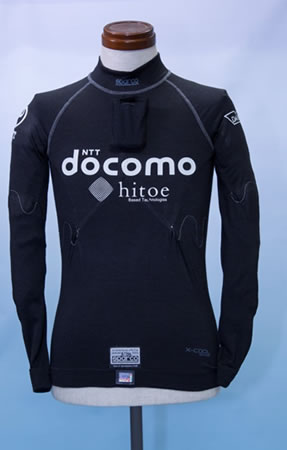 DOCOMO TEAM DANDELION RACING 2017 MACHINE