Registration & Accommodation
Online Registration has been closed.
The registration fees are as follows:
| | |
| --- | --- |
| Full | 20,000 JPY (Onsite Registration Fee: 25,000 JPY) |
| Student | 10,000 JPY (Onsite Registration Fee: 13,000 JPY) |
| Accompanying person | 3,000 JPY (per person) |
The Registration Fee is fixed and cannot be prorated.
The full and student registration fees include a copy of the abstract booklet, coffee breaks, lunches (from Monday to Thursday) and the welcome reception and symposium banquet. The fee for accompanying persons covers coffee breaks, lunches, the welcome reception and banquet.
Deadline:
Registration
with
Hotel resevation:
October 20, 2017.
Registration
without
Hotel resevation:
October 31, 2017.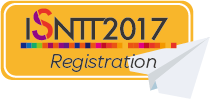 Purpose of Collection and Usage of Personal Information
Whenever personal information is collected by NTT Basic Research Laboratories (NTT-BRL), it will be identified why this information is collected, how it will be used and how long it will be retained. Personal information submitted to NTT-BRL is handled appropriately within the scope of the purpose of use and will not be disclosed to any third party
The personal information that we collect and hold about you depends on your interaction with us. Generally, we will collect and hold your personal information for the purposes of:
confirming your registration for "ISNTT2017";
responding to queries made by you;
to keep you and ourselves informed of the status of the conference or the event you have expressed an interest in, or attending;
providing you with information about other services that we, our related entities and other organisations that we have affiliations with offer, that may be of interest to you;
keep you up to date of our achievements, new appointments, future conferences and events.
For further information view the privacy policy of NTT Group at the following link:
NTT Group Privacy Policy